Stickers, labels and wrappers are the most economical form of advertising and their basic function is to clearly declare your product. They are used for branding, promotion, advertising and labeling of the items themselves, and therefore great attention also should be paid to the graphic design and to the selection of quality types of materials and printing.
Applying glue to paper to obtain a self-adhesive label or sticker is just one of the inventions that started the avalanche of label development and labeling, which no longer have only their original function – product identification. In the production of self-adhesive stickers and labels these days operations like embossing, foil printing, screen printing, etc. are already used as decorative technologies.
All types of stickers and labels have bar codes, QR codes and other 2D or 3D symbology, along with printing techniques of flexographic printing, book printing, etching, offset printing, with classic or UV inks, digital printing – all this is now an integral part of standard production of one modern printing facility.
Today, label and sticker printing is no longer a small private production. With its constant development, it becomes a highly sophisticated production branch consisting of modern printing technologies from sheets and rolls that can be classic or digital, with the use of different types of paper, foils, complex combinations of adhesives, varnishes and inks, modern digital preparation and die cuts of different irregular shapes with cutting.,creasing,kiss cutting, perforating, drilling – whatever the end user of the product that carries the label or sticker needs.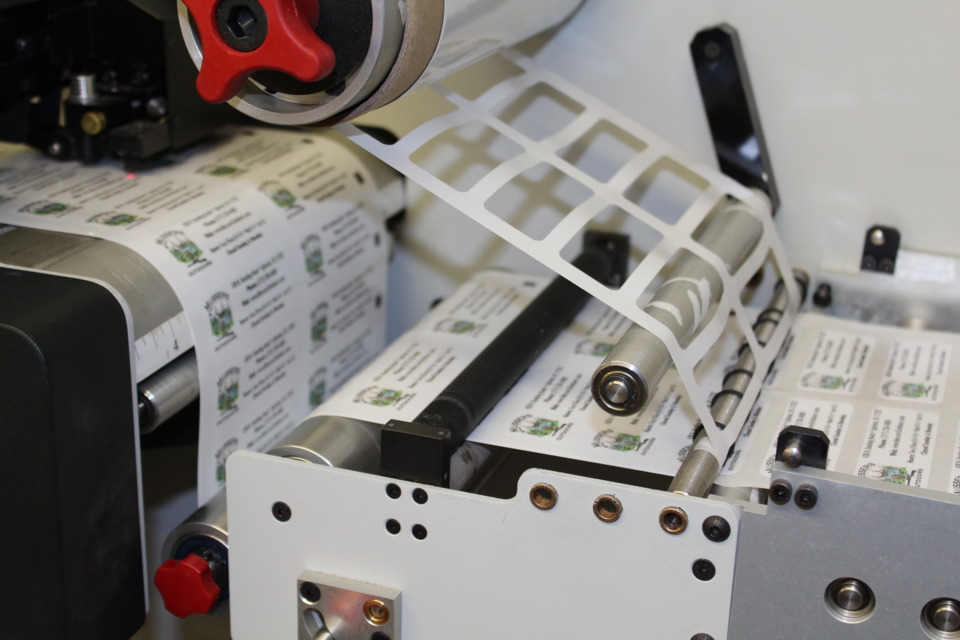 Types of Stickers and Labels
The sticker or label today can be a piece of paper, cardboard, laminated material, metallized foil, plastic film, fabric or any artificial material that can be placed on the product and at the same time marks that product, and contains information about the product – its content or composition, origin, instructions , property or destination. In addition to the prescribed information that the label must contain, it is also in the service of marketing and product promotion, because the design is adapting to the product that carries it.
Labeling is the process of placing a label or sticker on a product or on a surface that the label marks, declares it and gives it personality or added value.
 The sticker and label market today is divided according to the use of the finished products themselves, so it is perhaps easiest to classify them into main segments:
– Food
– For wine and beer

– "Durable" industrial – labels that guarantee their durability on the product for ten years
– For cosmetics and household
– For drinks
– For storage and transport
– For drugs and other pharmaceutical products
– Safety labels and stickers
Today's offer of labels and stickers is diverse, and according to the production process and application we can divide them into two categories: stickers that contain some kind of glue and those to which the glue is applied at the time of labeling.
The labels that carry the glue are:

Rubberized labels (water-activated adhesive)
Labels where the adhesive is activated by temperature
Self-adhesive labels and stickers (pressure sensitive label) – labels or stickers where the adhesive is activated under the influence of pressure.
Labels on which the adhesive is applied subsequently at the time of application, i.e. labels that are applied without adhesive:

Conventional paper Wet glue labels, cut and stack labels and "wrap around" labels
Shrink sleeve labels
IML (in-mold) labels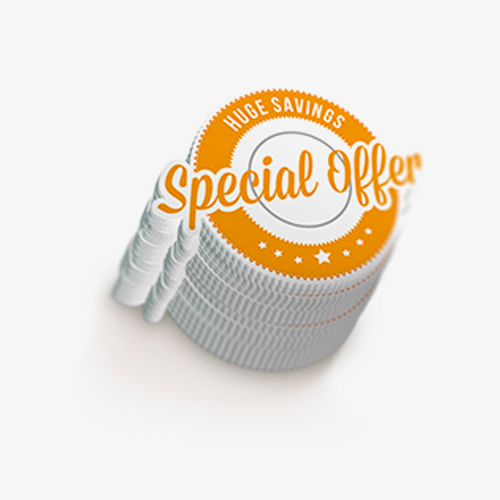 How to choose a sticker for label, production process and material?
Each labeling process has its advantages and disadvantages. When choosing the technology of the application, but also the production of stickers and labels (printing), it is usually necessary to examine:
– Material cost (self-adhesive, shrink sleeve, transparent, metallized, structured, etc.)
– Cost of printing and processing (number of colors, printing in sheet or roll, finishing and decorative elements (varnish effect, embossing, double-sided printing, printing in glue, "booklet" label
– Visual requirements of the label or sticker(material – paper or foil, design, premium quality, "no label" look, "soft touch" material)

– Durability of the label (scratch resistance in terms of print quality, as well as resistance to the conditions in which the final product will be used)
– Printing and processing speed

– Quantity and circulation

– Labeling speed
– Investment in production and application

– The cost of stopping the production line (changing rolls or labels, adjusting and cleaning, etc.)

– Additional requirements (in terms of safety sticker – hologram, protection against recharging, protection against unauthorized opening, etc.)
When choosing a material, it is necessary to check as much information as possible – so that in the beginning you can move in the right direction:
– Is the label paper or plastic

– With or without printing, whether it is double-sided printing, printing in glue for self-adhesive materials, whether a "booklet label" is offered, or a multilayer label or sticker
– Finishing, decorative and security elements (e.g. blind print, braille, foil print, positioned hologram, numbering, bar code or QR code, perforation, etc.).

– Purpose (type of application and product, application temperature, later storage and transport)

– Special requirements (extremely high or low temperatures, resistance to moisture, water, chemicals, atmospheric conditions, etc.).
The Future – expectations or anticipation?
For faster and direct communication with the end user – the customer, and in addition to mass production and individualization, there are more and more requests for "smart and intelligent labels or stickers" .By "smart labels" we mean labels that contain data, information and solutions in production processes, distribution, sales and later give feedback from the users of the product. Labels or stickers carry a chip or antenna that records data and the user can read them automatically or on request or as needed. In addition to RFID labels, there are also stickers that record temperature oscillations, the growth of microorganisms, labels that absorb moisture, indicators of product freshness, light protection and the like.
Today, you can't go wrong with investing in any printing machine or label or sticker business if you have a vision of what you will produce and print on the machine and where you will place your products.