In their daily work, printing companies encounter materials that may adversely affect the environment. Materials such as inks and solvents used in the printing process can harm employees and their environment if the company does not meet the relevant environmental standards and procedures or if they are mismanaged them.
Environmental regulations regulate what may or may not be done with production waste. The regulations regulate the way of control of waste materials, their storage, treatment or disposal. The scale of control of waste materials to a large extent depends on technology, raw materials, consumables, storage methods, organization of work and production volume in the printing company.
Prevention of pollution involves the implementation of all necessary measures to reduce the amount and toxicity of pollution generated in the production process. Reducing waste and pollution is one of the most necessary activities that every printing company should consider. Under the prevention of pollution comes simple actions, such as the use of grids and drains to prevent the discharge of harmful substances but also and some complex measures such as redesigning existing production processes to increase efficiency and reduce waste.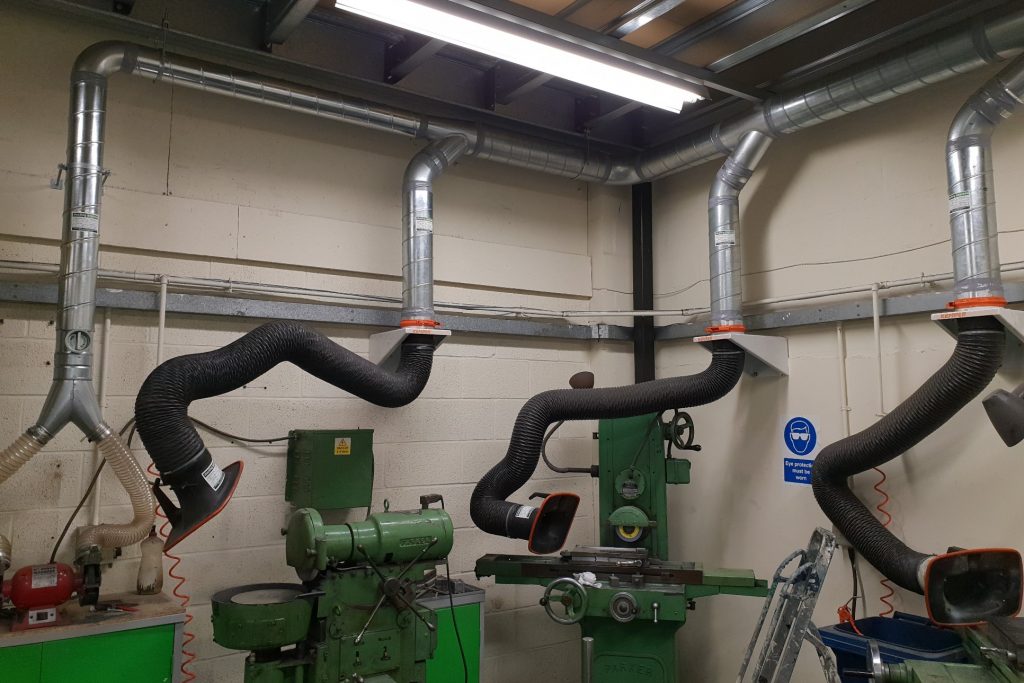 Also important notice must be put on extraction systems for print shops, operation that is implemented by many printing companies in the recent years. We all know that dusts usually occur in mechanical processes such as the printing, folding or cutting of paper and print media or when transporting these materials. Printing machines release particles of lint and paint which can have negative impact on the printing result. Other processing machines in printing industry also release dust as well as unpleasant odours, which must be reliably extracted and filtered. Implementing air extraction in print companies helps them to be correlated with the requirements regarding health and safety at work and ensures smooth operation processes at the same time. These also leads to less ventilation and improved waste heat recovery also help save cleaning costs, while the product quality and thus customer satisfaction increase.
Extraction systems in one printing company can be used for:
Extracting paper dust and pigment particles
Neutralization of unpleasant odours
Extracting volatile organic compounds (VOC)
Extraction systems for trimmings and milling dust
Extraction at rotary inline cutters
Extraction systems for folding machines and gathering lines
Extraction of dust at die cutters, and much more…
Often, choosing the right solution or technology we can contribute to reducing environmental pollution and minimize the risks posed by non-compliance with laws and environmental regulations. Corporate Social Responsibility means being fully aware of the negative impact of manufacturing activities on the environment and taking effective measures to reduce it. Because even the smallest step towards reducing waste has its value.
Benefits of Reducing Waste in Printing Companies
Each printing company generates a certain amount of harmful waste that must be handled in a safe and cost-effective manner. Waste management costs a lot of money. Usually the things we throw away are materials we previously paid for. Reducing waste also allows us to reduce costs. It is the cost reduction that most motivates printers to take action.
Waste reduction contributes to:
-Improved work environment and worker safety.
-Increasing efficiency.
-Improved competitiveness – Customers are increasingly paying attention to their suppliers' eco-standards.
-Less conflict over regulations.
-Better environment.
-Increasing brand awareness and social responsibility.
What can we consider and do to reduce waste?
There are many ways to prevent pollution in printing facilities. Here are some good examples of implementation that can reduce the negative impact of production on the environment:
-Keep the workplace clean and properly organized to prevent potential accidents.

-Use trays – pads and safety elements where there is a potential for leakage of toxic liquids.

-Repair leaks immediately.

-Do not buy more than necessary. Optimize your inventory so your surpluses do not become waste and recurring.
-Buy the largest container. The packaging of inks, solvents and chemicals always ends up as waste.

-Shop for the least toxic and walkable products available to you. Check MSDS for the products you buy. If the product is toxic or dangerous, ask your supplier for an alternative.
-Use the oldest items purchased first (golden rule: first purchased, first spent).

-If you have excess or unnecessary materials, check with your supplier to see if you can return them for sale.
-Include disposal costs when making your purchase decision. What seems like the cheapest option may cost you more because of the cost of disposal or other management costs.
-Store materials in a way to protects them from damage.

-Regularly check for packaging leaks in your storage area.
-Make sure all packaging is clearly labeled. Store products in their original packaging.
-Store waste separately and make sure it is properly labeled for easy disposal, reusing or recycling.
-Store items that could easily leak in a place where leaked content will be easily visible.
-Make a list of your waste, then try to find a way to reduce it or eliminate it individually. For example, change harmful solvent to those based on water or mild and environmentally friendly detergents.
– Analyze industry standards for production technology, from print preparation to post-print activities. Regular recycling, storage and processing costs can be easily calculated. Consider investing in new machinery or equipment that will significantly reduce the negative environmental impact of production, reduce the amount of harmful substances and reduce utility costs.
– The automation of individual processes, such as automatic plate washing after printing or ultrasonic cleaning of anilox rolls significantly reduces the consumption of detergents and water, and extends the life of the plate.
– Implement procedures for regular quality control (anilox, printing plates, printing proof) this will directly impact on reducing costs and unnecessary waste.
– Develop environmental awareness among employees through regular training connected with questions about procedures and quality control.