Dragon Chewer is leading the charge on wholesale custom marijuana packaging labels and bags. This unique industry is exploding with custom packaging solutions.
What makes custom cannabis packaging unique?
Dispensary packaging supplies need to be CPSC/ISO certified.
The complex legal framework and packaging requirements require products to be packaged in containers that are child proof.
However, they have to be easy for adults or elderly users to open. This has created an entire niche of packaging containers, bottles and boxes specific to this use case.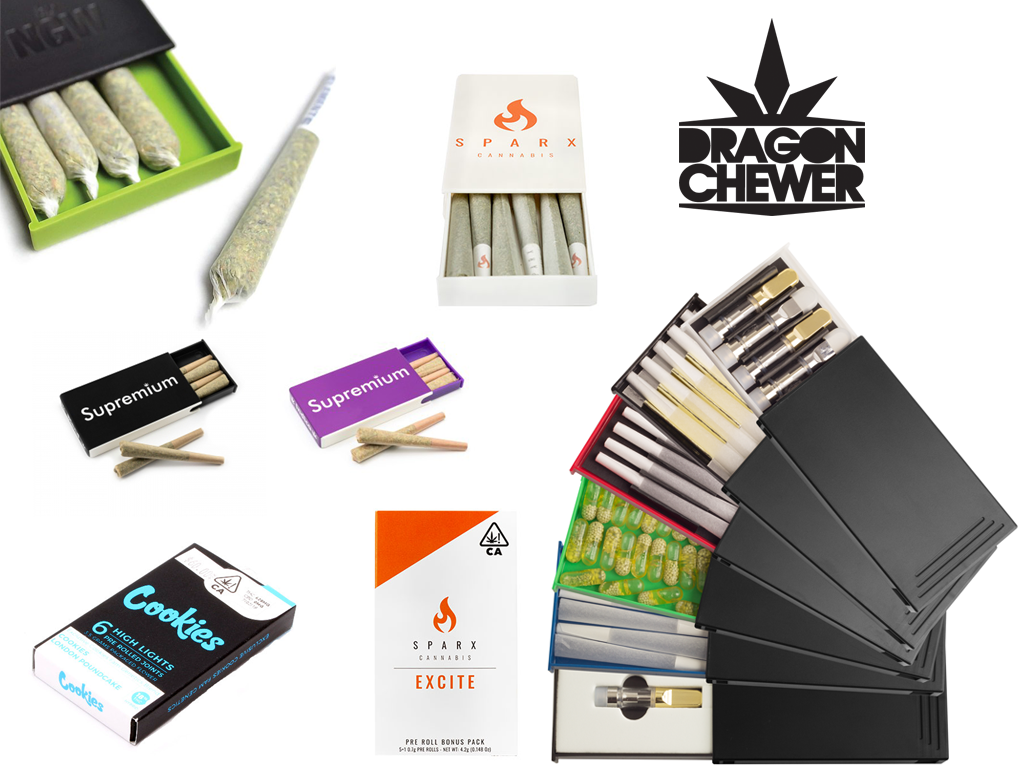 Dragon Chewer has a comprehensive catalog of specific containers for pre rolls, vape cartridges, flower, edibles, concentrates and more.
They designed the containers to meet the CPSC / ISO child safety requirements.
Moreover, they have added customization for all the products they designed.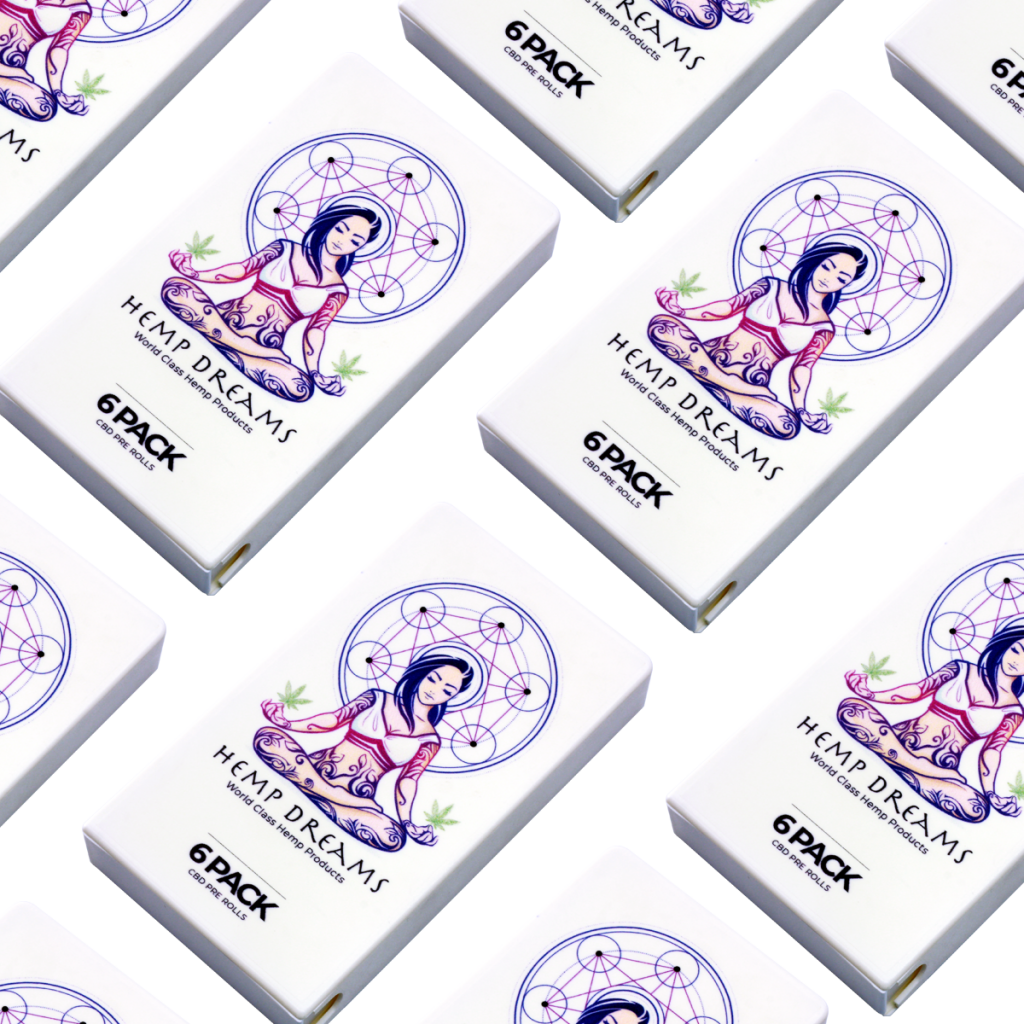 They are now offering custom paper sleeves, direct UV print, custom labels and pad printing.
Moreover, the base materials for the products are becoming even sustainable for the environment.
They are utilizing a hemp fiber mixed with the polymers to reduce the carbon footprint of the packaging.
Additionally, they are adding an additive that accelerates the biodegradation of all the materials. This enzyme additive actually breaks down the container.
This concept mixed with modern Eco-friendly water based inks and recycled paper sleeves are starting to give packaging a new chapter in sustainable options.
True compliant child resistant cannabis packaging makes the most sense in rigid packaging.
This turn of events with new material options and utilizing different print and label options has made the Dragon Chewer products a staple in the cannabis industry.
They are made in the USA and available from the Dragon Chewer online store.
Below is an example of a solution they created for pre roll packaging.
It is a cigarette style pre-roll box that uses a novel locking mechanism called the Pinch N Flip Premium CR Pre Roll Packaging Box.
Additionally, it is CPSC/ISO certified and uses the material additive to make it more sustainable. This packaging container is perfect for labels, direct UV print and paper boxes.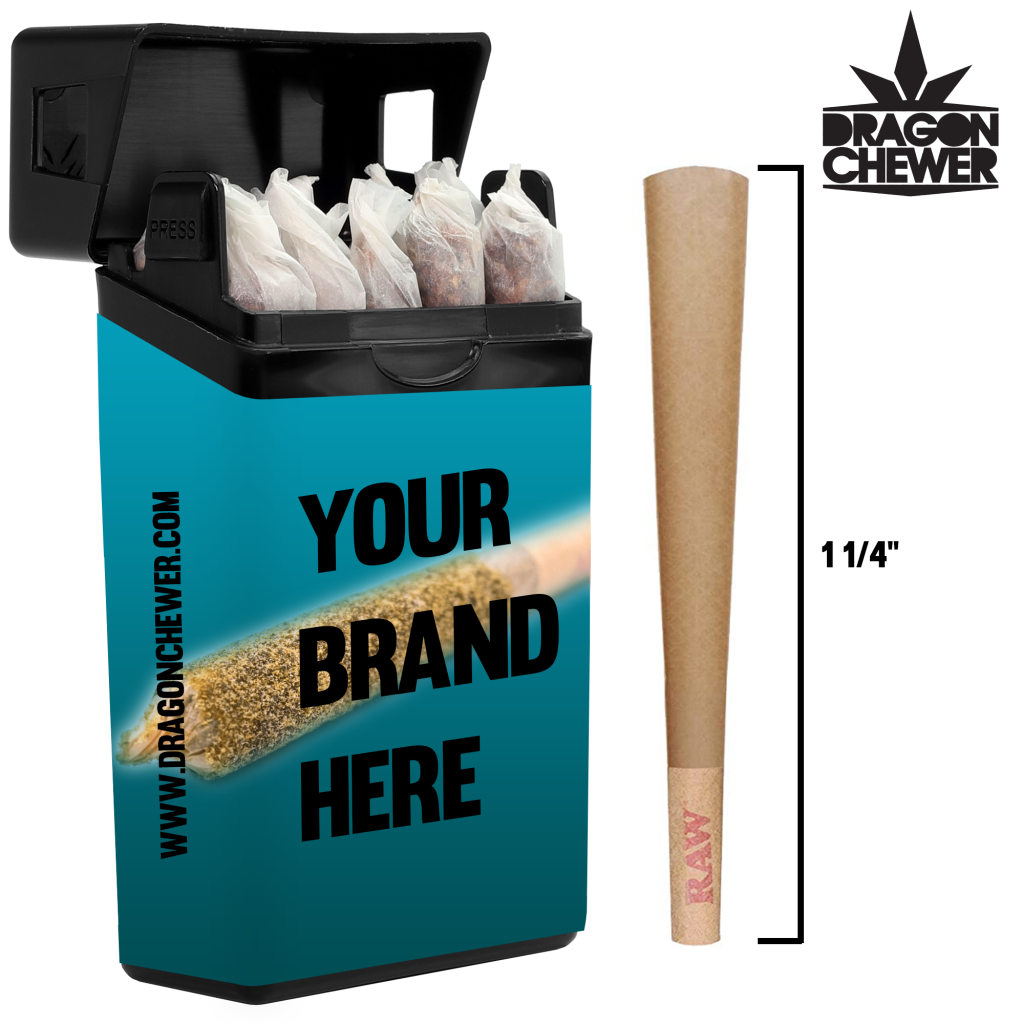 Dragon Chewer slider pre roll boxes have been used by some of the biggest brands around.
Like Cookies, Autumn Brands, Sparx, Supremium, Dabout and NGW.
They are constantly innovating in product design and custom applications. We expect to see a lot more from this unique custom packaging company in the near future.
New Print does a good job out outlining this new world of packaging – specific to the cannabis industry.
Click here to view the article.
They outline the competitive landscape of the industry and the main packaging products such as airtight jars, glass containers inside paper boxes, paper cannabis packaging, bags and tubes.
What is left out in this article is the fake dispensary packaging that is starting to really take hold.
This is one of the reasons why USA made products that are unique have seen a huge uptick in the market.
This allows brands more control over the packaging and creates big roadblocks for copycats.
Cannabis brands are moving away from generic paper boxes and easy to replicate packaging products.
They are sourcing packaging products with IP and creating contractual agreements to product consumers.
We are also seeing a big push for tracking products with unique identifiers and QR codes to ensure it is an authentic product from the brand.