The sticker usage will play the main role in deciding what material and finish to use for your stickers and labels. Each material and finish is optimized for a particular usage application, with the sticker printing and manufacturing processes balancing the cost per label against the durability requirements.
In both indoor and outdoor applications, considerations include durability and UV resistance (are the stickers going to be exposed to any elements?), longevity requirements (are the stickers going to be used for one off packaging applications or are the stickers going to be reused multiple times?) and handling (are the stickers going to be handled a lot, is there a chance of damage to the print or surface?).
Paper
Paper stickers and labels are the most economical labels to produce. They are great for product packaging, stationery, address and shipping labeling, educational applications, personal use and much more. These stickers and labels should not be used outside as they are not UV stable or waterproof.
Our paper labels have a semi-gloss finish, and are printed in high resolution for outstanding graphics and crisp text.
Polypropylene
Polypropylene stickers and labels are our most versatile material, they can be used for any of the paper label applications and more, for both indoor and short-term outdoor applications. Polypropylene is the most popular label material for product and food packaging due to its resistance to mechanical damage, water and humidity. Our polypropylene labels are printed with food safe inks and can be used in freezer storage.
PET
PET material is a plastic resin which provides for very durable stickers and labels with a high tolerance against UV, heat and chemicals. They have great tensile strength and mechanical damage resistance. These labels should be used when you need stickers and labels of high durability for long-term applications and can be used indoors or outdoors for up to 10 years.
Signage Vinyl
We offer a wide selection of signage vinyl for applications such as window and wall graphics, floor stickers, vehicle branding and vinyl lettering. We also offer magnetic, blackboard, static cling and frosted vinyl. Each application requires a specific vinyl for purpose, which our sales team can help advise you on.
Format
Stickers and labels can be supplied in various formats including rolls, sheets and individually cut out. The format chosen will depend on storage, order quantity, usage and application requirements.
Order quantity
Roll stickers and labels are the most popular format, due to easy storage and application. They can be perforated for easy dispensing. Roll stickers and labels are available in a minimum quantity of 500 stickers.
Usage
Product labels are often supplied on rolls while individually cut out stickers are perfect for promotional handouts. Perforated roll stickers are also available for easy dispensing.
Storage
If storage is a consideration, rolls and sheets are easier to store.
Application
If an automatic or semi-automatic applicator is used, rolls are essential. Our standard roll core size is 76mm but we also offer 25mm, 38mm, 40mm, 50mm roll cores. The labels can be printed to any orientation required for the applicator.
Finish
Stickers and labels can be finished with lamination, gold or silver cold stamping, flood or selective varnish.
Lamination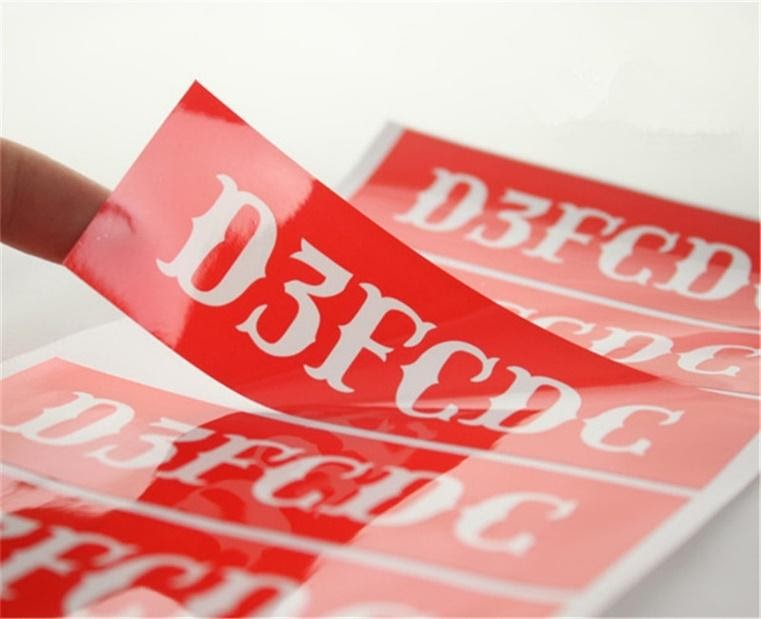 Lamination is available in gloss or matt, and is used to add extra durability to the stickers and labels.
Cold Stamping
Cold stamping labels with gold or silver foil provides an attractive finish, perfect for luxury brands looking to stand out on the shelf and promote their high quality products.
Varnish
Varnish is available in matt or gloss. Flood varnish covers the whole print area, while selective varnish is set to a specific area on the print, giving the stickers and labels an added 3D effect with the varnish contrasting against the label material.
Taken from: https://www.brandpack.ie/Blog/Post/Sticker-Material-Guide