The DTF printing method is a rising star in the apparel printing industry and getting more and more popular, leading a trend to replace traditional DTG, HTV and sublimation.
This article focuses on the top 10 DTF printer brands with the help of Google search, and collects the perfect information to help all kinds of newcomers or manufacturers who are ready to expand their business with some useful advices.
The following brands are discussed in this article: Mimaki, Epson, DtgPro, Coldesi, KingdomDtf, Sublistar, Magic-Touch, NSP-DTF, Mid West, Azonprinter.
After collecting the practical experience, user feedback and survey from experts in DTF printing industry, following DTF printers are recommended to adapt the latest marketing trend in the 2nd half of 2023:
This article focuses on the performance, advantages and disadvantages of DTF printers of different brands, so customers can make choices according to their needs.
Top 10 DTF printers in the industry in 2023 are as follows:
1.Mimaki "TxF150-75"
2. Epson L1800 / P800
3. DTGPro Fusion Modell
4.Coldesi DTF 12H2 Basic
5. Sublistar DTF STAR IV Series
6.TheMagicTouch DTF Sheet Fed Printer
7.NSP Direct to Film DP3 – NSP-DTF
8. MIDWEST DTF
9.STS DTF
10.AZON DTF
1.Mimaki "TxF150-75"
The "TxF150-75" is Mimaki's first DTF printer and the only DTF printer currently available from the brand.
It is released in April 2023 and is the latest machine from this brand. It has received a lot of attention from the industry.
Advantages:
(1) "TxF150-75" has a maximum printing width of 800mm, which is a large width machine suitable for medium or large enterprises to put into production.
(2) "TxF150-75" uses the "PHT50" DTF thermal transfer pigment ink, the ink adopts degassing ink design.
The use of aluminum packaging as the printer ink packaging form, and white ink circulation function MCT ( Mimaki Circulation Technology) can effectively solve the problem of ink output defects and white ink clogging.
Also the ink meets the requirements of the international safety standard OEKO-TEX®.
It reduces the impact on the environment and is friendly to the customer's working environment.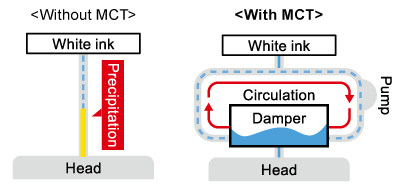 (3) "TxF150-75" has a nozzle inspection and recovery system: this function helps to monitor whether the nozzle is missing, and has the function of timely compensation after the missing recognition, reducing downtime and ensuring the smooth and effective operation of the machine.
It can be concluded that the Mimaki "TxF150-75" solves the pain point of a large part of DTF printers today, the whinamely white ink problem that is easily getting blocked.
Disadvantages: not small and medium-sized printers, expensive, but after all, Mimaki is the leader of the machine industry, so the price must be relatively high.
2. Epson L1800 / P800
Epson L1800
Epson L1800 is modified to become a DTF printer, the maximum print width of 13 x 19 inches, A3 + paper size.
The body size is 28 inches long x 13 inches wide x 9 inches high.
Advantages:
(1) Printing without margin 1:1 isometric printing.
(2) Six-color ink bin, restore the true color, true natural rendering picture, eliminating the trouble of stitching large pictures cut.
(3) The use of micro-piezoelectric printing technology to ensure excellent printing accuracy, durable print head to improve print stability and achieve the combination of print speed and accuracy.
(4) And the A3 size is very suitable for small and medium-sized enterprises, with a small footprint.
To a large extent, reducing the expenditure of funds such as site storage, in addition, the Epson L1800 is the most cost-effective one compared with other products of the same A3 Size in the current market and also an entry for many beginners.
Disadvantages: Although cost-effective, the failure rate is higher,the lifespan is short,and need to be used with additional shaking powder equipment.
Mainly rely on manual operation, less efficient.
Epson P800
This Epson P800 is also an inkjet printer converted to a DTF printer, also dedicated to small format printing. It handles sizes up to 17 x 22 inches and is slightly wider than the L1800.
Advantages:
(1) This machine has some of the same features as the L1800, both of which can achieve borderless printing.
In addition, the MicroPiezo AMC print head works quickly with the pigment-based Ultra Chrome HD nine-group ink, printing 8 x 10 inches in 1 minute and 53 seconds.
(2) Printable on spools and flats, it also features Wi-Fi connectivity, Apple AirPrint, and Google Cloud Print support for wireless printing and direct work from mobile devices as well as USB 2.0 and Ethernet.
(3) Variable drop ink technology with eight channels of on-demand drop print heads for greater ink savings.
Ink ensures long print durability.
You can use it as a regular printer or convert it for DTG or DTF use.
Epson P800 is very popular with DTG and DTF users because of its speed and high print resolution, as well as compatibility with popular RIP software, including ACRORIP, and more.
Disadvantages: This machine has been discontinued, the vast majority of the market is used, the post-maintenance costs are high.
Also need to be used together with shaking powder machine, mainly rely on manual operation.
3. DTG Pro Fusion Model
Perhaps, DTGPro brand is not as well known as Mimaki and Epson, but this brand has decades of history, performance around the world,and its cost performance in the industry still has a certain reputation.
Advantages:
(1) DTF Roll Feeding Technology (up to A3+ or 33cm wide DTF rolls)
(2) Vacuum-enhanced printing area for better ink adhesion and avoidance of film buckling
(3) Humidity Sensor
(4) Epson Driver Software
(5) Efficiently designed exterior shell and frame structure
(6) DTF sheet vacuum system for perfect prints
(7) Advanced Roller system for easy and fast feed controls
(8) Efficient and simple flush system with flush cartridges or bottles
(9) Integrated and modular Roll feed system
(10) DTF specialized Damper system for improved pressurized delivery of ink
Conveniently located front control designs
The above advantages ensure that DTF printers maintain good stability during the printing process and reduce the problem of film curling.
Disadvantages: During the printing process, the temperature and humidity need to be precisely controlled, and there will be dust spillage and fume emission, which is not conducive to the operating environment of employees.
4.Coldesi DTF 12H2 Basic
Coldesi is a highly reputable company in the United States with strong marketing capabilities.
The DTF 12H2 BASIC is a 28.5″ x 39.75″ wide printer with all the features of a basic DTF printer.
Benefits:
(1) Very fast – prints approximately 50,8″ x 10″ transfers in one hour!
(2) Only 10 seconds of initial media time!
(3) Beautiful Digital Gradients and HDR Colors
(4) Six-stage drying to achieve fast punching and quick release
(5) Can effectively solve the problem of static electricity, to avoid interruptions in printing due to static friction.
(6) Dust collection and smoke free function, effectively solve the problem of dust overflow during the printing process, reduce the adverse impact on the operating environment.
Disadvantages: compared to other brands, the advantages are not outstanding.
Print speed basically meets the needs of beginners. Post maintenance is more frequently and regularly needed.
5. Sublistar DTF STAR IV Series
Sublistar is a emerging printer factory from China, the company was established for decades, focusing on development and production of digital printing printers, and is the first manufacturer to develop and produce DTF printers.
The company has now launched the fourth generation of DTF machines, which are far superior to other brands in terms of intelligent production, low maintenance costs, wide color gamut output and easy and friendly operation.
The DTF-A3+ Ultra A All-In-One is a printer suitable for small format garment printing with a print width of 300mm, or approximately 12 inches.
The machine combines printing and shaking powder processing in one, and comes with a smoke-free purifier, with a small footprint and high automation, making it the first choice for home, small business, and personalized clothing customization store owners.
Sublistar's 60cm width series DTF machines are also popular among users.
Represented by 6002 STAR IV, it supports board function customization, automatic nozzle detection and recovery, as well as online automatic moisturizing and automatic cleaning, which greatly extends the service life of the nozzle and saves the overall maintenance cost.
What's striking is that SUBLISTAR has announced their latest revolutionary non-sedimentation ink system at the latest launch event.
The ink system changes the traditional white ink circulation mixing, and no filtering or circulation is needed.
The ink bag is directly connected to the ink supply tube to supply ink to the printhead, and even if the machine is not used for a long time, the nozzles are still smooth, without any problem of blockage.
And the company promises nozzles 3-6 months free warranty.
Outstanding advantages, design sense of appearance, high cost performance, stable quality, free technical guidance.
This is the most suitable product for new business investment in the current market.
Sublistar DTF machine technical advantages:
(1) Online Automatic Cleaning System
(2) Nozzle Recovery System
(3) Non-precipitation Ink System
(4) Temperature & Humidity Monitor
(5) Front, Middle & Rear Heating
(6) Cart Heating System
(7) Integrated TPU Powder Drying & Curing System
(8) Optional Take-up Reel System
(9) Automatic Powder Recovery System
Disadvantage: The machine is updated quickly, and there are many categories, so customers are too selective.
6.TheMagicTouch DTF Sheet Fed Printer
TheMagicTouch is an American business with decades of experience in digital printing.
It had strategic vision to promote its business and enhance its popularity on social media for more than 13 years ago.
The brand has a lot of experience in production, good quality machines and is well known in the region.
The DTF Sheet Fed Printer is the most basic entry-level DTF printer from the brand, supporting flat sheet printing.
The print width is 16″ x 20″ with original Epson printheads.
Advantages:
(1) Using the latest digital transmission technology
(2) Combines the advantages and features of DTG, print and cut, screen printing and traditional transfer printing
(3) Built-in humidity sensor to effectively monitor the humidity in the environment and ensure the normal operation of the machine
(4) Full WIMS ink circulation, effectively slowing down the probability of nozzle clogging and reducing white ink clogging.
Disadvantages: The whole body size is 116 x 112 x 60 cm, with a large footprint and overweight machine.
7.NSP Direct to Film DP3 – NSP-DTF
NSP is a French company specializing in equipment, which aims to provide customers with a one-stop-shop approach, offering not only machinery and equipment, but also machinery and consumables, making it easy for customers to make one-stop purchases.
The Direct to Film DP3 – NSP-DTF is the entry-level DTF printer of this brand.
Advantages:
(1) Intelligent PLC automatic operation, streamlining manual labor and high efficiency.
(2) Exclusive interleaved inkjet printing, from the original linear inkjet printing method to interleaved inkjet printing, the printing speed is doubled than the original.
(3) Tension control system, with automatic deviation correction, the film will not run off, will not arch, and will not wipe the nozzle.
White ink and CMYK ink fits perfectly.
(4) Suction system upgrade-The location of the suction system is upgraded to dissipate heat and extend the life of the motor.
Disadvantages: The machine is using XP600 nozzle, more problems, it is easy to plug the head, as well as other problems, the need for frequent maintenance.
8. MIDWEST DTF
Is a well-known brand in the United Kingdom, doing embroidery machines, mainly is in the industry for more than 20 years,and has a wealth of experience.
The DTF printers it sells hold a certain amount of weight in the local market, and its superior quality and excellent service make the brand earn a good reputation in the local area.
MIDWEST's representative product, DTF-6002Promax, has a print width of 24 inches.
Advantages:
(1) Powder Box Upgrade, Conical powder box, reduces the burden on the motor and extend the life of the motor.
(2) Dust collection and fume-less purification system, friendly to the operating environment, no dust spillage.
(3) Vacuum adsorption conveying platform absorbing the print material to ensure that the material does not bulge or runoff.
(4) The touch screen device is easy to operate. Just touch the desired option to easily navigate through the menus.
The user-friendly nature of the touch screen also helps to save time.
Disadvantages: When the machine is powered off, it is easy to accidentally damage the machine, so avoid running the machine at too high a temperature and damage the machine nozzle and other parts.
9.STS DTF
STS is an American manufacturer specializing in the production and sale of inks, providing quality inks compatible with most major brands of large format printers.
In addition to making ink, the brand also represents machinery and equipment from various countries, and the quality of these devices is also well received by our customers.
The XPD-724 DTF Printer is one of the best sale products of the STS brand, with a print width of 24.4 inches.
Advantages:
(1) User-friendly operation and maintenance, providing high throughput and high quality output.
(2) Built-in white ink circulation system, the system allows free and unobstructed flow of ink directly to the print head, providing optimal results.
It pairs perfectly with STS's DTF ink to provide users with an excellent color gamut and outstanding durability.
(3) High cycle count effectively reduces white ink deposit clogging.
(4) Upgraded Wave Form – Reduced Graininess at High Speeds for smoother printing.
Disadvantages: The machine is more ink-consuming, increasing the cost of printing.
The machine manufacturer is provided by Japan, the price is higher compared to other products.
10.AZON DTF
AZON is a professional manufacturer of various types of machinery and equipment in Croatia, for aluminum products, plate making, textile fabrics, plastic, wood and other materials have corresponding application programs.
Provide customers with diverse options, professional and dedicated service.
Azon Pronto + is a basic 600mm wide format printer with 2 print heads to meet daily printing.
If you want to print fluorescent colors, you can choose Azon Pronto + Neon or Pronto + Neon X models to print more colors and faster.
Advantages:
(1) simple operation, easy to use, can be semi-automated, touchable operation screen, support for multiple languages.
(2) Equipped with high quality ink to ensure smooth printing.
(3) Beautiful appearance of the machine, the customer has additional needs to customize the color or additional features.
(4) Smoke-free purification function, timely handling of dust spills and exhaust gas generated during machine operation, in line with environmental standards.
Disadvantages: All-in-one machine covers an area larger than A3 size, more suitable for medium and large enterprises.
The above is a Google search summary of the TOP 10 DTF printers, each of them has both advantages and disadvantages.
This summary can be used as reference for businessman who are ready to invest in digital printing industry.