Since their inception, DTG printers have become highly sought after by major clothing manufacturers because of their practical printing methods, simple work steps and high quality color detail printing.
Currently, the market has several large DTG manufacturers with a good reputation, on the one hand, but on the other hand, their price is too high, and maintenance costs are not low.
In the following, we will present some affordable and cost-effective DTG printers that also have a certain degree of brand awareness and very good quality characteristics.
RICOH Ri 6000 – $25,000 to $30,000
RICOH is a well-known world company that has a very extensive line of printers. The Ri 6000 series is one of the printers that is often suggested.
This line of DTG printers has grown its clientele by providing a wide variety of printed apparel, such as shirts, socks, and canvas grocery bags.
The Ri 6000 can print on dark and light clothing in a ratio of up to 50/50 and is best for printing on natural textiles.
Product Dimensions: The dimensions of a DTG printer are 50.3 cm by 107.4 cm by 111.8 cm.
Resolution for printing: 600 dpi
The color configuration of the RICOH Ri 6000 includes 12 channels with 192 nozzles each.
Ricoh printheads rated at 100 billion actuations are built into the Ri 6000, offering improved life and capacity.
Water-based ink and a built-in white ink recirculation system effectively maintain ink flow and minimize deposits, reducing waste.
Print speed: The Ricoh Ri 6000 can print full-color 12″ x 10″ graphics on light-colored garments in less than 27 seconds when printing fast and 53 seconds when printing accurately.
Perfect for small to medium sized printers and custom apparel.
Print quality: cmyk + w technology allows you to first apply a white background to a full-color design before choosing a color, which is more graphic for vivid and realistic color printing.
You can print on both natural materials and synthetic blends, including 100% light polyester, thanks to specially developed inks.
It only takes a few clicks to print your design after you upload it and view the image on the console.
These DTG printers include a unique software set – AnaRIP software.
Designing with this software is easy, convenient and this software is fast to change shapes, add text, remove colors, etc.
In order to accurately price the shirt, the software will also determine how much ink should be used to print the design and display the price.
Disadvantages: Limited print widths, not available for large printers and mass production.
Brother GTX Pro Direct to Garment- $28,999.00
In addition to their well-known brand name, Brother's clothing printers are also known for their consistent quality control.
Industry Type: The most popular DTG direct injection printing machine on the market, DTG printers are appropriate for small and medium-sized garment printing customized industries.
The output printing can be compared to a photograph.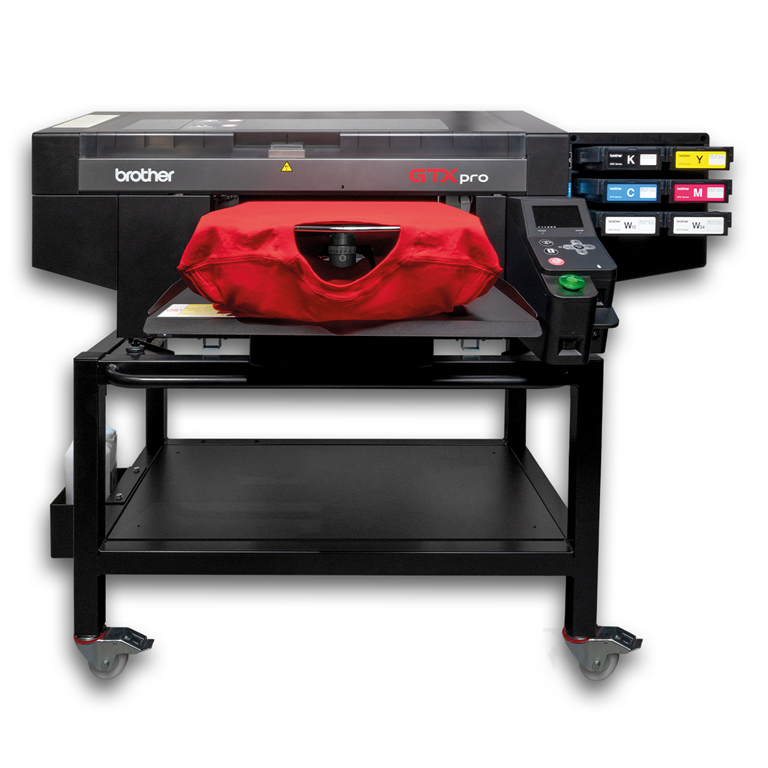 The Innobella textile ink used by Brother GTX Pro allows you to combine a wider range of colors than other types of inks for excellent clarity.
This water-based pigment ink comes in 200ml and 500ml sizes.
Printing speed and resolution: The Brother GTX Pro can print a t-shirt in under 30 seconds while ensuring 1200 dpi x 1200 dpi print quality.
Extreme clarity characterizes the print quality, which customers rated as their favorite print so far in tests, and 16″ x 21″ is the maximum print size that is allowed.
The print area is on a 355mm x 406mm wide platform that allows printing on pockets, zippers, seams and other unique interfaces. Therefore, it is ideal for various adaptations.
FreeJet 700TX DTG Printer – $19,995
The Freejet 700TX is the most efficient direct t-shirt printing machine that can produce four 17*30 inch garments or other garments at the same time.
If you're looking for serial printing, you should consider this model.
This brand of direct t-shirt printing machine also has multi-functional operation, supports multiple types of printing platforms, removable head technology and can print on different shapes and types of textile fabrics.
T-shirts, sweatshirts, hats, towels, mouse pads, jeans and polo shirts are equipped with good printing results.
Print quality – Vivid colors can be printed on dark or light clothing.
Equipped with high-quality CMYK+W ink, as well as a combination of brand-specific features, it is possible to achieve less white ink deposition, reducing the number of print head cleaning needs during the day when the machine is operating normally.
Cleaning can be done when the machine stops printing. It can improve printer efficiency and save white ink, which is relatively expensive for DTG printers.
Moreover, manual and fully automatic print height setting can be realized so you can save the effort and time of manually adjusting the print height.
Print resolution: the resolution is up to 2880 x 1440, which can easily restore the designer's design scheme and provide customers with a satisfactory service tailored to their needs.
RIP software can also directly and automatically generate the white background and ink usage cost.
Clear at first glance.
Color configuration: the style printer has 8 channels, i.e. CMYK+4*white and 2*CMYK. Look at the customer's printing needs, choose a more suitable configuration for yourself.
Product Size: The largest size of the DTG printer is 47 inches x 90 inches x 47 inches.
Cons: This DTG printer has a slow print speed and is expensive when large print comes.
Sublistar DTG DTX-II Double Station DTG Printer – $13000
Sublistar, a DTG garment printer with decades of experience, has finally come to prominence in the last few years and is being known by more and more customers.
Industry Type: Sublistar DTG DTX-II Double Station DTG Printer, Duplex, allows direct printing on cotton fabrics, regardless of the color shade of the t-shirt.
Printing efficiency is high, and simultaneous operation of dual stations is possible.
Used technology: proprietary BG.AP technology, saving ink consumption, virtual coloring and printing of natural textures.
Unique COLORSHIFT function, adjustment to a wide range of t-shirt colors, good print results.
Adjustable concentration of white ink to achieve different printing effects.
Print quality: can fully realize stable printing, low ink consumption and high added value of output products.
The finished product realistically reflects the design, matches perfectly with the garment, is natural and colorful.
Meet customers' printing needs for mass production.
Characteristic features are simple to operate, easy to get started, and friendly to novices.
Color configuration: CMYK+W
Disadvantages: can only print cotton fabrics.
In short, it is the most recommended cost-effective direct t-shirt printing machine with guaranteed quality.
It's a brand you can trust and choose.