As an industry professional, you are constantly looking for a way to increase the quantity and level of your production. This is one of the main challenges of the industry along with the innovation.
In the laser engraving and cutting industry investment in a machines for laser engraving and cutting can have a lot of positive influence on your business in terms of:
– Increased level of production with a good price on the market.
– You meet the needs of the market. For this reason, your quality engraving and micro-processing results complement industry standards.
– No need for outsourcing.
The benefits of using of this mechanical and laser solutions (CO2, fiber, etc.) for your business can really be huge like:
– Possibility of marking on practically any material, of any type and size, even on larger formats.
– Working on complex curves is no problem.
– Possibility of engraving on material as hard as stainless steel and other metals.
– Constant quality.
– A unique visual effect to your metal parts and so on…
Laser and CNC engraving and cutting on wood
This type of machine can meet and exceed customer expectations in terms of laser processing, cutting and all types of creation on wood and the range of models, prototypes as well as markings and decorative items. These laser and mechanical engraving machines can produce whatever result you want depending on the parameters of the engraving object (size, type of wood, thickness, etc.).
Whether it is plywood, MDF, soft or hard wood, these machines offer the possibility of treating wood in a number of ways, and enable the cutting, creation, engraving and decoration of the following objects:
– Signs
– Architectural models
– Craft models
– Decorative items
– Holiday items (Christmas, Easter, birthdays, etc.)
– Inserted items, marketing
– Wooden toys
– Promotional items
Regardless of the shape, size or complexity of the object, cutting and engraving on wood is quick, simple and precise.
Engraving on glass and crystal
Working on glass requires the most precise tools, including faceted diamonds and CO2 laser technology. Laser engraving scratches the work surface, while diamond engraving carves out the material to make a finer engraving while maintaining transparency. Choose laser or mechanical technology according to the desired effect, your budget and the desired production.
Personalisation of glass objects
Delight your customers by offering them an engraved glass gift in unsurpassed quality. Fine, detailed and precise personalization will be guaranteed on all types of items including:
– Perfume bottles
– Glass glasses (wine glass, whiskey glass, champagne bottle, etc.)
– Bottles and decanters
– Table accessories
– Photo frames
– and much more!
Engraving on metal
Two technologies are available for optimal results: laser engraving and mechanical engraving. These marking processes produce excellent results in engraving soft metals such as aluminum or brass, or marking on hard alloys such as steel, stainless steel. Precious metals can also be engraved.
Examples
Engraving
– Engraving of aluminum, stainless steel and brass plates
– Making marks – internal and external, larger or smaller
– Engraving on door signs, professional plaques…
Marking

– Identification, coding of mechanical parts and components
– Matrix data for quality assurance
– Engraving of tools and equipment
Personalization
– Engraving of jewelry, watches, cutlery, trophies, etc.
– Engraving on promotional items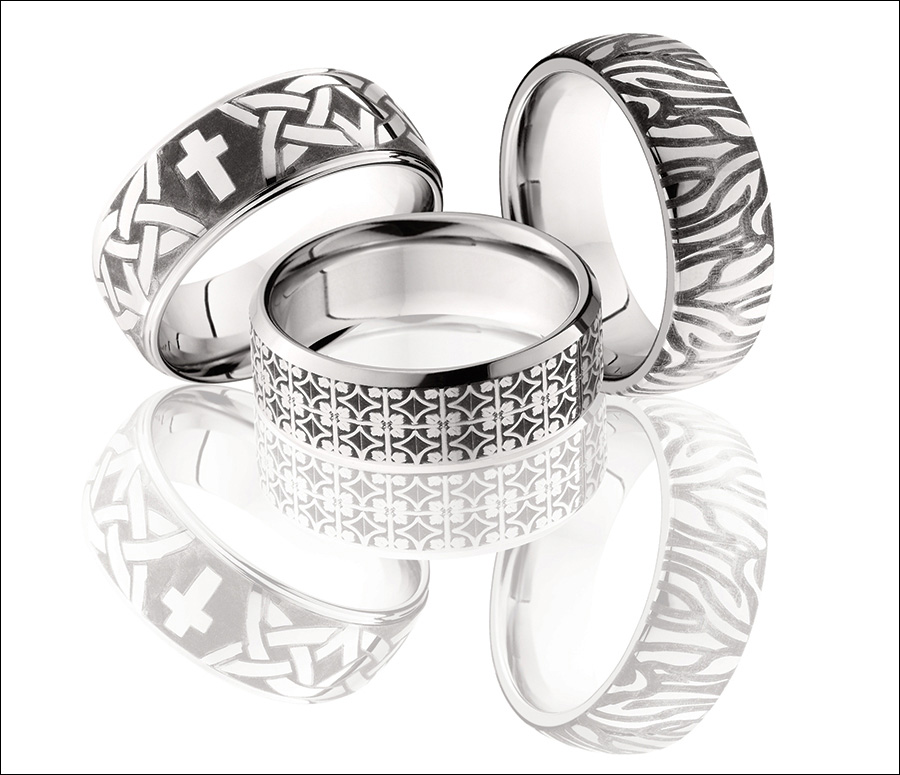 Laser or mechanical engraving: which system to choose for metal engraving
Choose your equipment according to the depth of the engraving: surface or deeper?
– The laser engraving machine will allow you to make a shallow cut or surface marking while the mechanical engraving machine gives you the possibility of deep engraving in metal, making your work more durable.
Choose your equipment according to the type of work you would perform:
– The CNC engraving machine is unique: it allows you to engrave, cut and drill in metal. It is capable of engraving text, geometric shape or vector logos. The laser engraving machine enables the production of more complex engravings such as logos, high-resolution photos, QR codes, barcodes and images without the need for vectorization. Less digital preparation is required for laser systems. However, you are not able to cut with this technology.
Select according to the production time for your application:
– If you want fast engraving production, aim for laser technology.
Laser and mechanical engraving on stone and marble
The message engraved in stone is eternal. Would it be a personalized motif on the stone, a decorative marble plaque or a piece of jewelry made of natural stone… Making each of these items is possible with the help of an engraving machine!
Laser engraving on stone results in a product similar to sandblasting or acid etching: the engraved surface gives the impression that the stone has been bleached or corroded. Laser engraving does not require any kind of additional tool / cutter to work, so it is quick and easy, without the need to hold the laser in place since laser is a contactless processing .The laser beam attacks the surface of the mineral material and the mineral is engraved on only a few microns. The finer the texture of the stone, the sharper and cleaner the engraving will be! The best results are achieved with darker stones because they provide higher contrast.
Mechanical engraving on stone gives quite different results compared to laser. Laser engraving fictitiously erodes (or whitens) the surface of the stone, giving a 'bleached' effect, while mechanically is cutting the material into depth. It is important to know that mechanical engraving on stone requires a cooling system to prevent premature wear of the cutter and machine. Air cooling is suitable with less engraving, but for deep ones, constant lubrication is necessary.
Marking of parts
From tracking every element in your industrial project or stock, to reusing it for innovation – marking on parts has become a necessity for manufacturers. Today, most economic sectors require marking of parts. Serial numbers, production reference numbers, manufacturer's logo and customer identification number – these are some of the most commonly used information for engraving on industrial objects.
Application
– Engraving on labels, tokens, marking tables, from small series to mass production.
– Unlimited industrial application for electrical plates for use, production of "ON-OFF" buttons, pipeline identification, production of name plates for the company.
– Identification plates can be made of metal or plastic depending on the client's requirements.
The choice contains many different solutions depending on the technology (fiber laser, CO² laser, mechanical engraving).
Laser technology is often used to mark codes. But laser technology is not the only solution to consider. Mechanical (CNC) engraving technology enables deep and long-lasting marking on a large number of materials. It will pass the test of time and will never fade, so your choice depends mostly on the application that has to be processed.
Mechanical engraving machines are more suitable for deep engraving and accurate marking and also can allow engraving of identification on the cargo.
At lasers it is good to know that CO² lasers can engrave directly on organic materials (wood, leather, stone, cardboard, etc.), laser plastics and coated metals (stainless aluminum, etc.), while Yag and Fiber lasers can engrave several different elements on a single object, especially serial numbers.